Custom Envelope Printing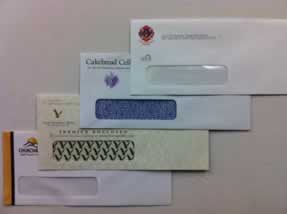 Custom Printed #10 window envelopes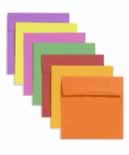 Square Envelopes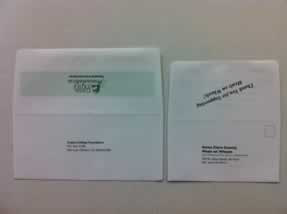 Remittance envelopes
Envelopes are our specialty here at First Impressions.  Through our custom envelope printing department we are able to offer high quality envelopes at extremely competitive prices.  First Impressions printed over 200 million envelopes in 2011, making us the largest envelope printer in Northern California. Our attention to details and quality has made us a trusted supplier of custom printed envelopes.
At First Impressions we like to keep things simple.  Here is what you can always expect from us:
Competitive pricing
Quality custom envelope printing
Superior customer service
Production miracles-normal turnaround is 3-5 working days, but we are equipped and ready for the 24-hour RUSH jobs
All our machines can simultaneously print on both sides allowing us to speed up production time and offer an extremely competitive price.  Our 4-color Jet press has a UV attachment to eliminate the normal "offset" that you experience when printing on pre-converted envelopes.  By eliminating the offset it also allows for full coverage to be printed on the envelopes.
Common Envelope Styles
First Impressions also takes pride in printing envelopes that nobody else can.  Whether you have a 4 color envelope with bleeds or a remit envelope that prints 2 sides, our production facility can handle it for you – "if they say it can't be done, call us!"  In addition to the most common envelopes: commercials, open-end, open-side and announcement/baronial envelopes we print on:
Tyvek (high density synthetic material)
Policy (commercial open end)
Translucent stock (see through)
Clasp (metal closure)
Remits (full flap envelopes)
Square envelopes
Coin envelopes (small envelopes)
Expansion envelopes (made with an accordion expansion to accommodate bulky items)