Booklet or Open-Side Envelopes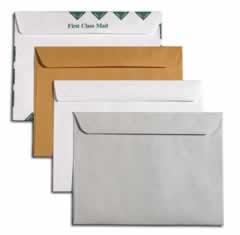 Open-side or Booklet envelope with the flap on the long dimension
Open-side envelopes are sometimes called booklet envelopes and have their flap running along the longer dimension of the envelope.  The standard sizes range from 6x9 to 10x15.  Open-side envelopes are commonly used for mass mailings as they are machine insertable.  First Impressions often trims off the flap of the envelope for title companies to use as escrow envelopes or for job dockets.
There are various stocks/styles that a booklet envelope comes in:
Regular white wove stock
Tyvek-tear resistant stock used for heavier items
Expansion-used for thicker enclosures
Cardboard-used to preserve quality of items inside of envelope
Heavy commodity grade stock
First Impressions Printing can also customize your open-side envelope even further if necessary.  As a full service envelope manufacturer, First Impressions can add any of the following:
a custom window to meet your accounting programs specifications
add an inside tint to protect sensitive data
add a closure to your envelope (clasp, latex gum, peel-n-seal)
custom stock to match your corporate brand
If you have further specifications, please call our team today.