Open-End Envelopes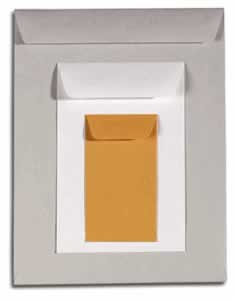 Open end or Catalog envelope with the flap on the short dimension
Open-end envelopes are sometimes called catalog envelopes and have their flap on the shorter dimension of the envelope.  The sizes available range from very small coin envelopes to jumbo catalog envelopes.  Envelope sizes run from 1 11/16 x 2 ¾ up to 24 x 36. Common uses for open-end envelopes are:
Coin envelopes-to put small items/jewelry
Policy envelopes-used commonly for cash receipts envelopes
Regular size open end envelopes-to mail out business correspondence/use for inter-office mail
Jumbo open end envelopes-to store newspapers/collectibles/building plans
Expansion envelopes-used to enclose thicker items inside the envelopes (ex: large catalog/magazine)
First Impressions Printing can also customize your open-end envelope even further if necessary.  As a full service envelope manufacturer, First Impressions can add any of the following:
a custom window to meet your accounting programs specifications
add an inside tint to protect sensitive data
add a closure to your envelope (clasp, latex gum, peel-n-seal)
custom stock to match your corporate brand
If you have further specifications, please call our team today.